Tuesday, February 15, 2005
A Late Valentine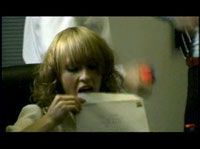 Here's a nice rock and or roll video, courtesy of band members that were all a part of one of the better shows I've seen in my life (despite being propositioned by the Stills' tour bus driver and ending up on stage eating cake out of Emily Haines' hands...it wasn't as dirty as it sounds *ahem, Jennie)
The Stills' Love and Death video, featuring the lovely Emily Haines from Metric and Broken Social Scene.
Click
to view. (Via
All Things Christie
)
Comments:
I was all pumped thinking this was a video from a new album... nope. This record came out in '03, why are they still making videos?
Their website says that they're in the studio working on new tracks. Looks like you'll have another opportunity to see that bus sometime soon.
"Don't make a fuss just get on the bus." - Frank Zappa
Post a Comment
<< Home